Make a card from radio stations that are not in the Yoto app
Updated 7 months ago
Create a playlist or card from a radio station or podcast that isn't in the Yoto app
1. Create a new Playlist
To set up a custom podcast, visit yotoplay.com/create and login using the same email address as you do for the app.
Select Playlist and then Add Playlist.


2. Add your audio stream to your Playlist 
Give your Playlist a name and tap the 'Add Stream' button.
Add the URL of the radio station to the'Add Stream' panel and click 'Save'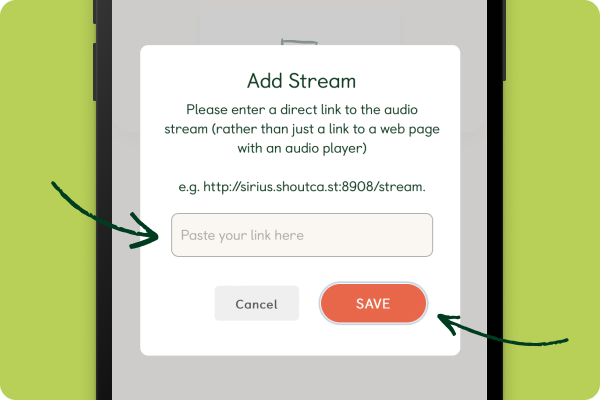 Note - You can make a card using any radio station that has a live stream on the internet, and any single podcast episode if you have the direct stream URL for that piece of content. This option works better for radio stations, as it requires you to update the card each time there is a new episode. 
3. Link your playlist to a card 
Go back to the app and navigate to the Make Your Own section.

You will see your newly created playlist in the library. Tap on that title to open the detail page
Tap the three dot menu
Select Link to a Card. 
Insert a Make Your Own card into your player and confirm by tapping Link in the pop-up panel
You should see a red 'record' icon on the player display, followed by a green tick to indicate a successful link. 
Take your card out of the player and reinsert it to play your new playlist.
Was this article helpful?