Using the Battery Saver mode
Updated 6 months ago
How to extend the battery life of your player
A significant amount of the power your player uses is for the display. By reducing the amount of time the display is showing images when not needed, you can extend the battery life by several hours.
To do this, there is a feature in Settings called Battery Saver, which works in the following way:
In the Yoto app, go to Players > Settings 

The Battery Saver setting in the Advanced panel lets you set the amount of time before the display switches off

The display will turn back on when a card is inserted into the player or when you push (or rotate) one of the buttons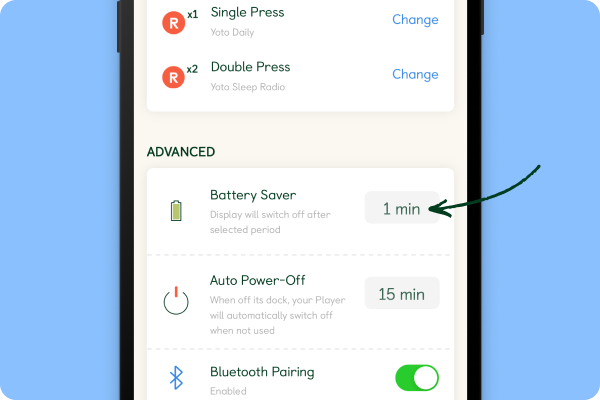 Tip: When the Yoto player (3rd Generation) battery is getting low, the volume is automatically limited to maintain optimal system performance. The volume bar will show as solid red when you reach the volume limit.
Was this article helpful?